Every week, I try to think of a new 'theme' for Thursdays Ten. Sometimes I just skip it, because (oddly enough) I have trouble thinking of something. I know there are thousands of things I could do a top ten of, but it grows harder and harder as the weeks go on.
This week:
Thursdays Ten Favorite ETSY Shops!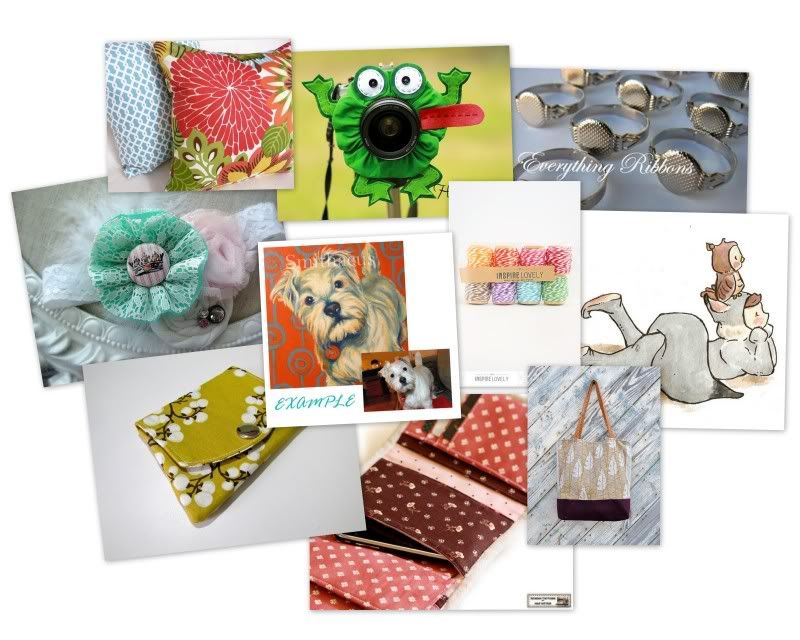 I have so many, so it will be hard to narrow it down. I will try to post my absolute favorite as of right now. (in no particular order) Here ya go. .
1. The Snootie Pig awesome headbands, and wonderful craftsmanship. love this shop.
2. Alexandra Rose I love her blog, so I may be bias, but she whips up some great stuff. I adore her mustard mini wallet.
3. Napkitten Pattern has great patterns, and once I get better at sewing, I am going to purchase the trifold iphone wallet pattern, because I love it.
4. Everything Ribbons I have ordered from them several times, and they have great supplies. Really good go-to place for random sewing supplies.
5. Happy Acres Farm I have yet to buy a decorated DSLR lens 'ornament' but every time I take pictures of kids, I regret that I don't have one. I will be purchasing one very soon. How adorable are they?!?
6. Loxly Hollow has the cutest nursery/home art decor. Seriously adorable.
7. Inspire Lovely has everything you need to package that special something for that special someone. Ribbons, tags, twine, you name it. Good stuff.
8. Smithacus Art If you know me at all, you know I am a dog lover, and obsessed with my lil' Emmy. This shop does original drawings of your favorite four legged friend.
9. Pillow Throw Decor because who doesn't love a nice throw pillow?!?
10. New Duds which I actually found today. I just love the golden feather tote.