I know I have been slacking recently with the Thursday's Ten, and my only excuse is how busy we have been, but today is a good one to get us into the Summer mood. This week's theme is:
Favorite SUMMER Foods & Drinks!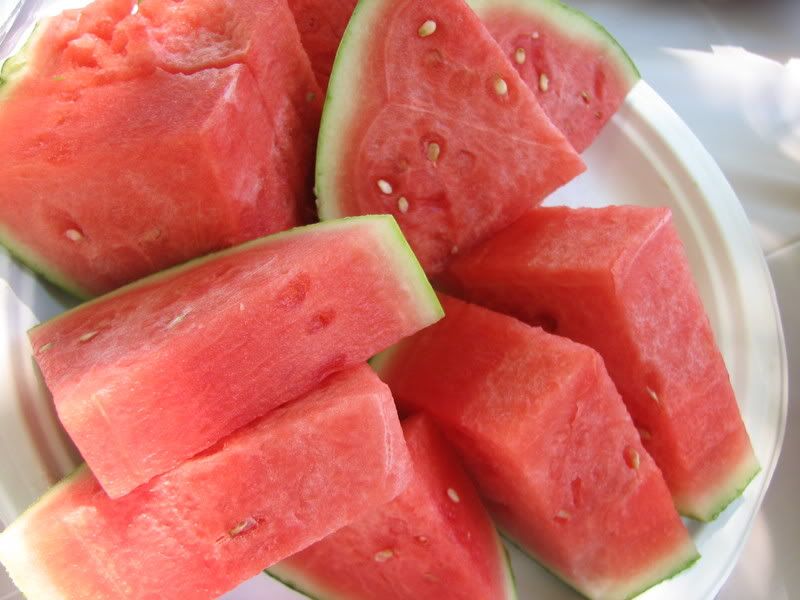 For some of them, they are homemade recipes, and I will most-likely be posting them throughout the summer, so stay tuned. Here goes.
1. White Wine Sangria. I don't drink too much these days, and I hate tasting alcohol, but Sangria is one of my all-time favorite alcoholic beverage. It tastes like juice and is so delicious. I have a great recipe for this I will be posting later.
2. Watermelon. FAVORITE fruit and a summer essential in most households.
3. Buffalo Turkey Burgers. My aunt gave me this recipe, we actually made them last night. They have become a staple in our household because they are so good. I do not like hamburgers, so this is a great alternative for me, especially during grilling season.
4. Corn on the Cob! I love corn. Probably my favorite vegetable, if you really even consider it a veggie seeing that it is not that good for you. I love corn, and corn on the cob is so much tastier. Definitely a summer must have.
5. Hot Dogs. If you a regular griller, this is probably a something you are obliged to make. Like I said, I don't like hamburgers so this is usually my go-to for quick summer grilling dinners.
6. Potato Salad. My best friend Lauren has the most amazing recipe for potato salad. It is so unhealthy, but it wouldn't be as good if it was, right? If she allows, and if I properly make it (when I do) I will probably post the recipe.
7. Tortellini Salad. I don't know where we got the recipe, but it is probably the favorite food my dad makes. It is tortellini, Chinese sausage and a balsamic vinaigrette sauce that is just to die for. It is served cold. I will definitely be posting the recipe this summer.
8. ICE CREAM! It should probably be my number 1, if you know me, you would know why. I LOVE ice cream. Especially mom and pop places like Pizzi Farms.
9. Beer. This one is for my man. He is a beer man, and he would probably think it was a must to add this to the list. I do also enjoy a nice cold beer, especially at a BBQ, but if I had to choose, I would much prefer a frozen girly drink instead.
10. Water. (can you tell I ran out, haha) No really, in the hot summer months, water is essential to all of us. I think sometimes we forget how warm it actually is, which is why we get run-down so easily. Don't get dehydrated folks, it can be dangerous.
well that made me hungry. I want to have a BBQ now. It is so nice out, we will probably have one this weekend, we just need more gas for the grill. Only one more day of the week, thank goodness!